Best Bathtub Step with Handrail for the Elderly - Ultimate Guide
Reading 3 Min
What Is a Bathtub Step Stool, and Why Do Most Seniors Use It Nowadays?
A bathtub step stool is a special stool that makes it easier and safer for seniors to get in and out of the tub. Seniors may not always be able to lift their legs high enough to step over the edge of the tub. This makes the move challenging and can even pose a slipping hazard. A bath step stool provides that extra height and a safe, anti-slip surface to make the transfer easy while reducing the risk of falls. 
Some step stools come with handrails that give added support. Bathtub steps and shower steps for the elderly are becoming increasingly vital in ensuring bathroom safety, especially for those who choose to age in place.
The Pros of Having a Bath Step Stool
As with any mobility device, it's important to consider the pros and cons of having a bath step stool before getting one.
Pros:
They make getting in and out of the tub easier.
They eliminate the risk of falls.
They are easy to use.
They enable seniors to be more independent.
They are portable, and you can use them for various other needs.
Here's a list of 7 best bathtub stools available:
1. The step2tub by step2health:
Made of strong industrial steel, the step2tub is a durable and stable step stool that features a large landing base with non-slip matting for traction. Another unique feature is the perpendicular handrails on either side that have soft foam padding for extra comfort. In addition, its height-adjustable step can provide a boost of up to 7.5".
Features:
Foam-padded comfort grip grab bars.
Non-slip textured matting and durable rubber tips to prevent slipping.
The chrome-plated steel frame enables a 300-pound weight capacity.
Dual clamps allow the step stool to lock on to almost any bathtub, adding that extra security.
The Pros: 
Durable
Non-slip platform
Height adjustable
Easy to assemble
The Cons:
It's heavy and can be a challenge to move around.
Available on: Amazon and Step2health website.
Why should you choose the step2tub: This step stool is a patented product by Vince Baiera, an ICU nurse with years of professional medical experience. Working on the front lines, he witnessed the struggles and challenges faced by many older adults, including his grandparents. 
He states, "I found that the step stools available then were missing some features that would help my grandparents and other older adults overcome the struggles of getting in and out of the tub. I realized that there has to be a more optimal approach for the elderly to safely get in and out of the shower, tub or bed. With years of experience as an ICU nurse, I then aspired to create a tool that would help seniors avoid the risk of falls. With extensive research and follow-up experimentation, I devised the step2tub and step2bed - modified step stools that cater to seniors and individuals with mobility issues."
2. Vaunn Medical Foot Step Stool with Handle
The Vaunn bath step stool is primarily designed with stability in mind. With a triple-layer chrome-plated frame, this step stool is ultra-durable and resistant to rust, making it ideal for use in the bathroom.
Features:
Made of triple-layered chrome-plated heavy-duty steel.
Has a non-skid ribbed rubber platform.
Reinforced rubber feet add traction on wet surfaces.
Has legs with a diameter that's ¼ " thicker than average for improved stability.
The Pros: 
Durable
Non-slip platform.
Multifunctional and versatile
Ideal for wet spaces
Small and weighs only 5 pounds for easy portability
The Cons:
The landing may be too small for those with limited mobility.
Available on: Amazon
3. AdjustaStep™ Deluxe Step Stool:
The pads on the AdjustaStep make this tub step stool more comfortable, less slippery, and easy to clean. The platform and handrail are densely padded, while the gripped legs prevent the stool from slipping. The padding also reduces the chances of falling and prevents wear and tear of the stool.
Features: 
Height adjustable step stool 
Adjustable handle 
Padding on step, legs, and handrail 
Chrome and silver-vein finishes 
Streamlined design.
The Pros: 
It has an adjustable step as well as a handrail
Padding gives extra comfort and traction 
Easy to detach the handle 
Allows height access from 8.5- 10.5 inches off the floor
The cons: 
Needs some degree of assembly
Available on: Amazon
4. Ollieroo Step Stool with Handle for Adults and Seniors
One of the best bathtub steps with a handrail is the Ollieroo step stool with a 2-in-1 feature. You can detach the handle if you need a stool without one. In addition, the durable steel frame is rust-proof and has a weight capacity of 330 pounds, while the non-slip rubber platform provides added stability.
Features:
Detachable handrails
Non-slip textured rubber matting
Rubber tips on legs for slip-resistance
The durable steel frame has a capacity of 330 pounds
The Pros: 
Durable
Non-slip platform
Stable
Easy to assemble in a few simple steps
The Cons:
The handle requires you to pull yourself up with no basal support.
It can be heavy to move around.
Available on:  Amazon
5. Drive Medical Bariatric Heavy- Duty Footstool with Handrail
This bath step stool has a high weight capacity due to its heavy and durable steel frame. Weighing only 13 pounds, it's easily portable, and its rust-resistant body makes it ideal for wet spaces.
Features: 
Durable 1" steel tubing throughout the frame.
An easy-to-maintain silver vein finish. 
Non-slip rubber step for added traction and safety.
Comes fully assembled.
The Pros: 
No need for assembly
Durable 
Has a non-slip rubber step surface
Lightweight and portable
The Cons:
The user will need to pull themselves up while only holding on to the handrail, which can lead to tipping.
It can be heavy for some to move without help.
Available on: Amazon 
6. Leekpai Sturdy Step Stool with Handle:
The Leekpai step stool design accommodates seniors who need a boost with or without a handle. Its non-slip rubber matting makes it fall-proof, and slip-resistant feet make it ideal for tiled floors. It also has comfortable padding on the handrail and an extra-wide platform.
Features:
The steel frame can hold up to 330lbs of weight
Non-slip rubber tips on feet.
Extra-wide textured rubber platform for traction and stability
The Pros: 
Durable
Ideal for wet spaces
Easy to clean
The Cons:
Requires some assembly
Non-detachable handrail
Available on: Amazon

7. North American Health + Wellness ZB6855 Bath and Shower Step Stool with Handle
This small, lightweight bathtub step-up stool has a 34" tall handle, making it easily accessible. The platform has textures of non-slip rubber matting while the rubber-tipped feet ensure it's safe for wet floors. With a weight capacity of 500lbs, it's ideal for those with mobility or balance issues and prevents falls.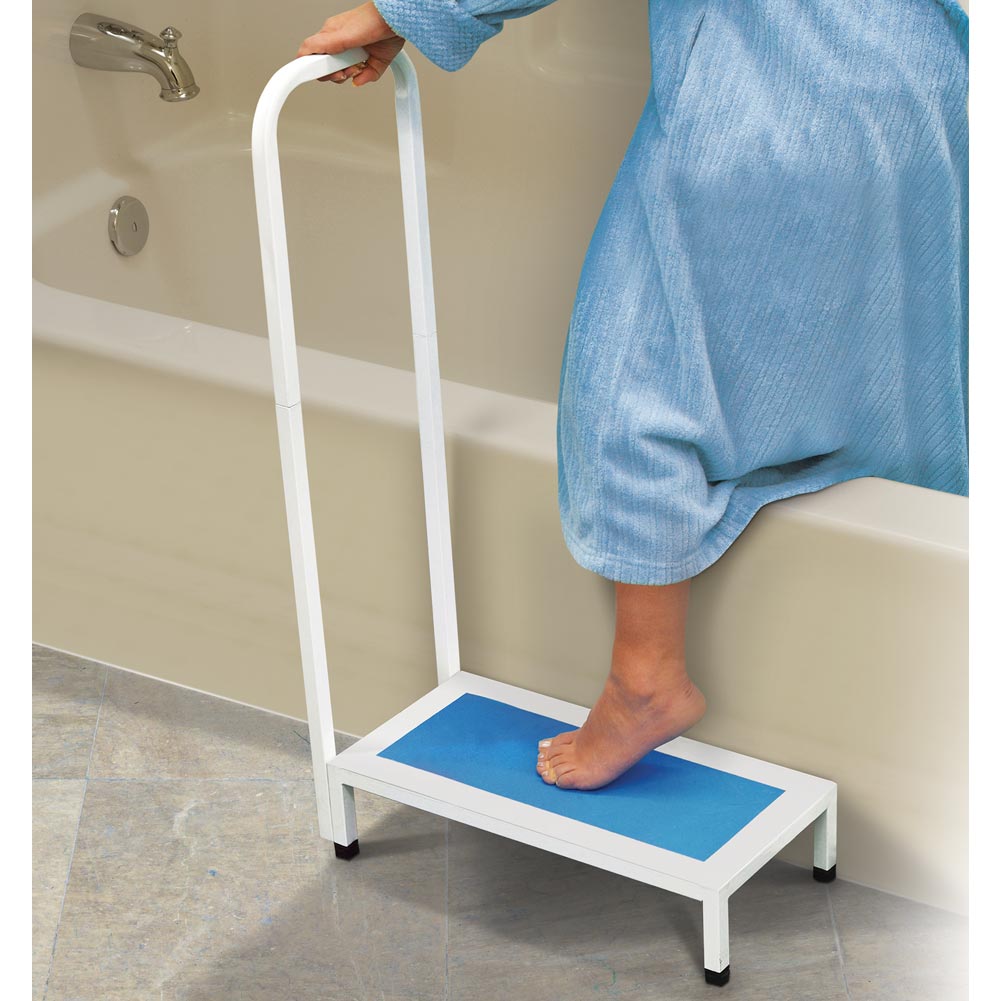 Features:
The steel frame can hold up to 500lbs of weight
Reinforced rubber-tipped feet prevent sliding.
A small, sleek design that allows for portability.
The Pros: 
High weight capacity.
Ideal for wet spaces.
Small and portable
Easy to use levelers
The Cons:
Available on:  Walmart
Safety Features of a Bath Step Stool:
When looking for the ideal bath step stool for your loved one, it's important to consider the various safety features it has. More safety features don't necessarily mean a better step stool since every need is different, but here are some features you may want to look for:
Good bathtub steps are stable and won't knock over easily or slip-on wet surfaces. Features that enable stability are a durable frame and anti-skid rubber tips on the feet.
Support Handrails for Safety:
Seniors with limited mobility need something to hold onto while getting in and out of the tub and grab bars provide that extra support, thereby boosting their confidence.
Another feature that adds to the safety of tub steps is a clamp system that allows it to be fixed securely to a tub and keeps it from moving around on wet surfaces.
Compatibility With Most Bathtubs
A step stool should be compatible with most bathtubs in terms of size and fixtures.
How To Choose the Right Bathtub Steps: 
Here are some important factors to consider before purchasing:
Size and Height of the Step Stool:
Bigger bathtub safety steps with more features and a wider step to place both feet on at the same time may be better for those with limited mobility. However, a step stool that exceeds your needs can become a hassle to use. That's why it's a good idea to determine the extent of lift you need and choose the right size and height of the stool.
A good step stool has a sturdy handrail. However, a handrail can become a hazard if it causes the stool to tip when used. Therefore, consider getting one with a well-welded handrail, which has a good grip and basal support.
Another factor to consider is whether you need a bath step stool that's foldable and easy to move around. If lightweight, it ought to be sturdy with a good weight capacity.
This feature is paramount when it comes to senior safety. Rubber gripping on the stool and handrail provides much-needed traction, and rubber tips on the feet will keep the stool from slipping.
If you don't need a high weight capacity, refrain from getting a heavy stool that's difficult to carry. Most bathrooms are small, and compactness and portability are ideal. However, it is possible to find lightweight stools with impressive weight capacities.
Consider Ability of Usage
Your loved one's ability to use a step stool and all its features is an important factor to consider. This will depend on their level of mobility, balance, strength, and how high they can lift their legs.
While safety and function come before aesthetics, choosing a style and design that works well for your loved one is also key in making their ability to live independently enjoyable.
Final Thoughts
A tub step makes bathroom safety possible and enables seniors to safely age in place. Mobility is so important for the elderly as it boosts their confidence and self-esteem by making them more independent in daily living. However, choosing a step stool that's reliable, safe, and easy to use is important, not only in the bathroom but in the bedroom as well.
FAQ
1. Can I Get a Step Stool with a Proper Surface Grip?
Yes, many bathtub step stools, bed step stools, and stools for use in the kitchen and outdoors have textured rubber matting on their platforms to provide added traction. This ensures stability and prevents slipping or falling.
2. Where Can I Buy the Best Quality Step Stool?
Most reliable online sites such as Amazon, eBay or Wal-Mart sell good quality step stools with genuine customer reviews so that you can make an informed decision before buying one. In addition, some websites sell their patent products that are also great such as Step2health.
3. What Kind of Material Should a Proper Step Stool Be Made Of?
A good step stool should be made of durable, waterproof, and rust-resistant materials such as stainless steel, solid wood, or triple-layered molded plastic. It should also have a rubber, slip-resistant matting for a good grip.
4. Do Step Stools Come with Warranties?
Yes, many step stools, especially expensive ones with good safety features, come with warranties.
5. How Can You Prevent Falls?
You can prevent falls by ensuring a safer environment or living space.
Remove tripping hazards such as clutter, unnecessary furniture, and loose carpets and rugs.
Install assistive devices around the house such as grab bars, staircase rails, and even slip-resistant tiles and mats.
Use aids such as canes, walkers, bed and bath step stools, and even shower chairs.
6. Why Are Bathroom Accessories So Important?
Bathroom accessories such as grab bars, motion sensor LED lights, bathtub step stools, raised toilet seats with handrails, and even sliding transfer benches have quite a few benefits to seniors, people with disabilities, and those with limited mobility. Here's why they're so important:
They ensure safety and prevent falls and injury.
They help people remain independent for as long as possible.
They make daily tasks less challenging.
They give people confidence in performing personal tasks and improve self-esteem.
choosing a selection results in a full page refresh
press the space key then arrow keys to make a selection